Sweet Old Song
Acclaimed musician Howard "Louie Bluie" Armstrong was renowned for a lifetime of jazz, blues, folk and country music. Armstrong's roots in America's musical past, his accomplished musicianship, and his sly and charming personality led the National Endowment for the Arts to honor him as a "national treasure." But when Armstrong met Barbara Ward, a sculptor 30 years his junior, a new chapter of his life and art unfolded.
"Sweet Old Song," a film by Leah Mahan, is the story of Armstrong and Ward's courtship and marriage – a unique partnership that inspired an outpouring of art and music. This creative work draws on nearly a century of African American experience, beginning with Armstrong's vivid stories and paintings of his childhood in a segregated town in Tennessee.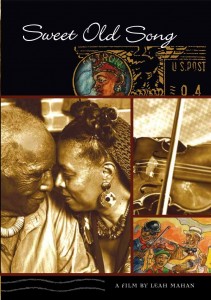 The premiere broadcast of Sweet Old Song on the PBS series "P.O.V." on July 30, 2002, brought rave reviews – "A delightful documentary" (San Francisco Chronicle), "A soulful duet" (Los Angeles Times), "Excellent" (TV Guide) – and a nomination for Outstanding Directorial Achievement from the Directors Guild of America. Acclaim for the documentary put Howard Armstrong, then 93, back into the spotlight with a concert tour including the Country Music Hall of Fame and honors such as the Folklife Heritage Award from the Governor of Tennessee and nomination for a W.C. Handy Award from the Blues Foundation, considered the highest honor in the blues.
Howard Armstrong died on July 30, 2003 of complications from a heart attack. New York Times music critic Jon Pareles wrote an obituary celebrating Howard's contributions as "the last guardian of a vanishing African-American tradition of string-band music" who "performed with a virtuoso's panache, pleasing audiences with fast fingers and a droll stage presence." In 2004 film critic Roger Ebert selected "Sweet Old Song" for his Overlooked Film Festival, where it joined the work of master filmmakers Errol Morris and Werner Herzog.
"Sweet Old Song" was given a rare re-broadcast on the "P.O.V." series in 2003 and is currently part of the "P.O.V." "True Lives" series, which highlights "classic" films from the series archive. The documentary is also currently part of the Independent Television Service series "True Stories," which broadcasts independent American films abroad.
In 2009, the Country Music Hall of Fame in Nashville and other venues around the country celebrated the 100th anniversary of Howard Armstrong's birth (March 4, 1909) with screenings of SWEET OLD SONG. The "P.O.V." series streamed the film on its Web site in March and April that year.
Barbara Ward Armstrong died of cancer in 2013.
SWEET OLD SONG was produced for the Independent Television Service with funding from the Corporation for Public Broadcasting. Outreach funding was provided by the National Black Programming Consortium and the LEF Foundation.
---
Order a DVD of SWEET OLD SONG by email.
HOME USE – $25 plus shipping

INSTITUTIONAL USE – (Colleges, Universities, Other institutions) $150 plus shipping

DISCOUNT EDUCATIONAL USE – (Public Library, High School, Small Non-Profit) $75 plus shipping
---
Read comments from SWEET OLD SONG viewers and critics.
Watch the "P.O.V." trailer for SWEET OLD SONG and check your local PBS station schedule.
Visit the "P.O.V." Web site for SWEET OLD SONG, which includes art galleries and music, interviews, tributes and classroom ideas.