Holding Ground
HOLDING GROUND: THE REBIRTH OF DUDLEY STREET is at once a cautionary tale of urban policies gone wrong and a message of hope for all American cities. In 1985, African-American, Latino, Cape Verdean, and European-American residents in Roxbury and Dorchester, Mass. united to revitalize their community. The Dudley Street Neighborhood Initiative (DSNI) went on to gain national recognition as residents fought to close down illegal dumps, gain unprecedented control of land from City Hall and create a comprehensive plan to rebuild the fabric of their community. Through the voices of committed residents, activists and city officials, this moving documentary shows how a Boston neighborhood was able to create and carry out its own agenda for change.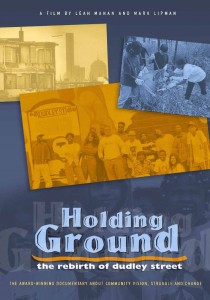 Since HOLDING GROUND aired on public television in 1997, it has become an important community-building tool. The film has been used widely by educators, and many credit the documentary with transforming the thinking of activists, community development professionals and philanthropists. At the time of the broadcast the filmmakers coordinated a far-reaching national outreach campaign. This effort made the documentary a model of grassroots media distribution and the ripple effects of this campaign are still being felt. The Ford Foundation studied the campaign in an evaluation of its most successful media funding in the past 25 years. After Hurricane Katrina, the Annie E. Casey Foundation commissioned an 11-minute version of the documentary to encourage its use by groups struggling to rebuild the Gulf Coast.
Viewers often ask what has happened in the Dudley Street neighborhood since the documentary was completed. A sequel was completed in 2013.
Major funding for HOLDING GROUND was provided by the Ford Foundation, the Annie E. Casey Foundation and the Mabel Louise Riley Foundation.
Buy a DVD of HOLDING GROUND through New Day Films.