March 24th, 2009
Celebration of Howard Armstrong's Centennial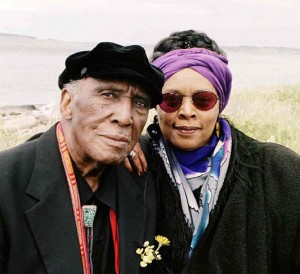 National treasure Howard "Louie Bluie" Armstrong would have turned 100 on March 4, 2009. The Country Music Hall of Fame in Nashville and other venues around the country will celebrate his centennial with screenings of my documentary SWEET OLD SONG and the "P.O.V." series will stream the film on it's Web site from March 2, 2009 – May 2, 2009.
Howard died July 30, 2003, one year after the 2002 "P.O.V." broadcast of SWEET OLD SONG. During that year he and Barbara performed at several screenings and Howard was able to return to his home state of Tennessee to receive the Governor's Award in the Arts.
Here are some of the screenings of SWEET OLD SONG and events celebrating Howard's legacy this year. Watch this site for updates.
Feb. 20 – SAN FRANCISCO, CA SWEET OLD SONG screened at the Castro Theatre, during the First International Film Festival on Aging.
March 2 to May 2 PBS "P.O.V." Web site will stream SWEET OLD SONG and post appreciations on the blog
March 4 – WASHINGTON, DC A flag will be flown over the U.S. Capitol in honor of Howard's birthday. This was arranged through the office of U.S. Senator Lamar Alexander.
March 6 – LA FOLLETTE, TN A birthday party for Howard, including a special screening of SWEET OLD SONG, with never before seen outtakes of the film, will be followed by birthday cake at the First Baptist Church in La Follette, TN. Local residents will share stories about life in the factory town where Howard lived with his parents and eight siblings.
March 13 – LA FOLLETTE, TN A performance of Between a Ballad and a Blues will be presented at 7pm at La Follette Middle School. This work by the Carpetbag Theatre Ensemble celebrates Howard's life, music and stories.
March 22 – NASHVILLE, TN A screening of SWEET OLD SONG at the Country Music Hall of Fame at 2pm. Made possible in part by "P.O.V.," in partnership with Nashville Public Television. Howard performed here in 2002 when the film was released.
April 18-26 – SEATTLE, WA SWEET OLD SONG will be shown during the Langston Hughes African American Film Festival.
June 13 – CARYVILLE, TN Screening of SWEET OLD SONG at the 3rd annual Louie Bluie Music and Arts Festival at Cove Lake State Park. Featuring musicians who knew and performed with Howard including guitarist Bruce Millard (with the band Hokum's Heroes) bluesman Guy Davis and folklorist and musician Sparky Rucker. There will also be a performance of Between a Ballad and a Blues.