November 13th, 2014
Come Hell or High Water – December broadcast, Facing Race and Bay Area events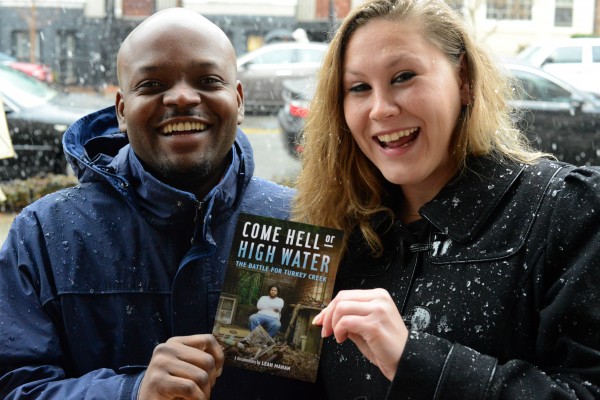 Festival goers in D.C. snow (Photo by Lolita Parker, Jr., 2014)
Come Hell or High Water: The Battle for Turkey Creek will air again on Dec. 16 and stream until Jan. 15. November events include a screening and workshop at Facing Race and three San Francisco Bay Area screenings celebrating the Sierra Club's presentation of the Robert Bullard Environmental Justice Award to Rose Johnson.
"A POWERFUL STORY of one man's good fight."
- C. Cassady, VIDEO LIBRARIAN
"WE HIGHLY RECOMMEND this documentary film
about a middle school teacher who leads an environmental justice
battle in a historic African American community in Mississippi."
- Deborah Menkart, TEACHING FOR CHANGE
"VIEWERS WILL BE TOUCHED … and gain insight into
the region's historical, environmental, and racial issues."
- Candance Smith, BOOKLIST
BROADCAST & STREAM
Come Hell or High Water will air again on the WORLD Channel series America ReFramed on Dec. 16 and will stream  for free for 30 days, from Dec. 17 to Jan.15 at http://bit.ly/TurkeyCreek.
You can watch the film and the post-broadcast conversation with Derrick Evans, journalist Brentin Mock and America ReFramed host Natasha Del Toro. Then visit these two great online projects to hear directly from Gulf Coast communities about ongoing challenges and groundbreaking solutions nine years after Hurricane Katrina: BridgeTheGulfProject.org and LandofOpportunityInteractive's Katrina/Sandy timeline.
UPCOMING SCREENINGS
Visit ComeHellorHighWaterFilm.com for links to upcoming events.
Nov. 14 & 15 - Facing Race "Race Flicks" Film Festival and Reel Justice workshop
Nov. 17 - UC Berkeley co-sponsored by Dept. of Landscape Architecture and Environmental Planning & Knight Program in Science and Environmental Journalism
Nov. 18 - New Parkway Theater co-sponsored by Berkeley Film Foundation & Oakland Film Society
Nov. 22 - Roxie Theater celebration of Rose Johnson's Sierra Club Bullard Award co-sponsored by San Francisco Green Film Festival
FALL HIGHLIGHTS
Recent events include:
Campus Events
Howard University Energy & Environmental Law Society, Humboldt University Campus Dialogue on Race, Ole Miss Racial Reconciliation Week, Texas A&M Campus Sustainability Day
Community Events
Gullah/Geechee Sea Island Coalition, North Carolina Environmental Justice Network
Practitioner Events
Greenbuild International Film Festival, EPA Office of Environmental Justice in partnership with the Planning and the Black Community Division of the American Planning Association and the DC Chapter of the National Organization of Minority Architects
TURKEY CREEK IN THE NEWS
"The U.S. Environmental Protection Agency is working with Turkey Creek and North Gulfport leaders to start a Federal Interagency Working Group on Environmental Justice," Sun Herald, 10/27/14
Through a workforce training program funded by BP oil recovery funds, young men survey water quality in the bayou that feeds Turkey Creek, WLOX, 10/28/14
NEWSLETTER
This news is from the November Come Hell or High Water newsletter. Sign up for future issues here (Click on "Subscribe" in the upper left corner).
DVDs FROM BULLFROG FILMS
Order through this page on ComeHellorHighWaterFilm.com and you'll receive a discount from Bullfrog Films.
COME HELL OR HIGH WATER: The Battle for Turkey Creek – TRAILER (1 MIN.) from Leah on Vimeo.