October 22nd, 2014
Return to Dudley Street to witness Generations of Change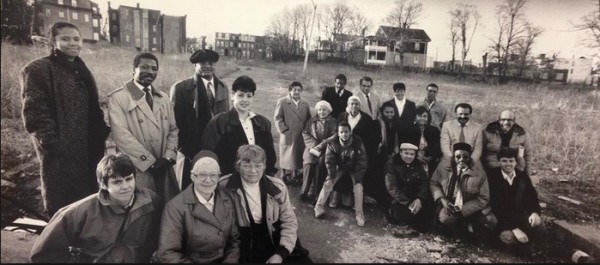 On November 7, the Dudley Street Neighborhood Initiative will screen Gaining Ground at the historic Strand Theater, where we premiered Holding Ground in 1996.
In the late 1980s I spent many days in the South End, a classic Boston neighborhood of old brownstones that were being bought up and made over in a wave of gentrification. Day after day, as I made my way to Blackside, Inc., the independent film company run by Henry Hampton, I saw the face of the neighborhood change. The bodegas, jazz clubs and classic diners were giving way to cafes and pricey restaurants. The longtime African American and Latino residents were moving out.
I was working for Henry as an intern and sound editing assistant on the Eyes on The Prize series, and as an aspiring documentary filmmaker I was searching for the stories I might tell about the contemporary struggle for rights and equality in my city. I wanted to look at the issue of displacement, and find out if communities that were being priced out of the city were organizing in some way.
One Sunday, there was an article in the Boston Globe about a group called the Dudley Street Neighborhood Initiative, a community-led organization that came together a few years earlier to try to revitalize the neighborhood without displacing its residents. Soon after, I went to hear the director, Gus Newport, speak to graduate students in public policy about the groundbreaking work that the organization was doing. Gus was open to talking about the idea of a documentary, and I asked Mark Lipman, who I'd met as a sound editor on Eyes, if he'd want to work on the project together.
Mark and I are honored that 25 years later we're joining in celebrations for the organization's 30th anniversary with a screening of our second film about the neighborhood, directed by filmmaker Llewellyn Smith.
I'm excited to join the festivities and eager to spend some time getting reacquainted with Boston. Today, John Barros, the 16-year-old youth leader in Holding Ground, is chief of economic development for the city, and cites Dudley Street as "the symbol" for his approach to economic development: "We have to make sure that working families have a place in Boston. You don't stop developing to do that. You make sure you can leverage all the growth to do that."
I look forward to seeing old friends and exploring the neighborhood. I'll post again about what I find.