October 22nd, 2014
Bay Area Screening Series Celebrates Rose Johnson & Robert Bullard Environmental Justice Award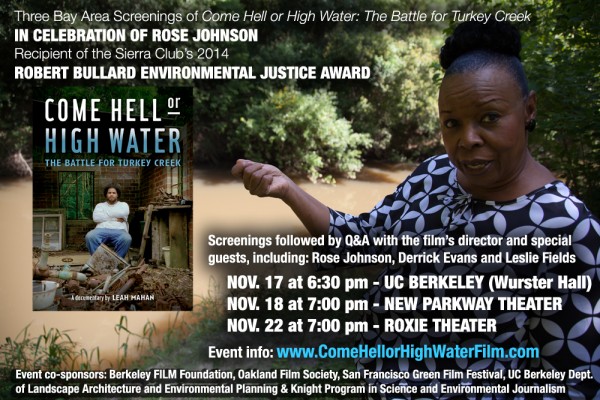 Cross-posted from ComeHellorHighWaterFilm.com
Three Bay Area screenings of Come Hell or High Water celebrate ROSE JOHNSON, an important voice in the film and the recipient of the Sierra Club's 2014 Robert Bullard Environmental Justice Award for her work to protect Turkey Creek. Event co-sponsors include the Berkeley FILM Foundation, Oakland Film Society, San Francisco Green Film Festival, UC Berkeley Dept. of Landscape Architecture and Environmental Planning and Knight Program in Science & Environmental Journalism. Screenings followed by Q&A with the film's director, Leah Mahan, and special guests, including: Rose Johnson, Derrick Evans, and Leslie Fields (Sierra Club director of Environmental Justice).
Nov. 17 at 6:30pm – UC Berkeley (Wurster Hall)
Nov. 18 at 7:00pm – New Parkway Theater, Oakland – Join and share the Facebook event
Nov. 22 at 7:00pm – Roxie Theater, San Francisco – Join and share the Facebook event
Event info: www.ComeHellOrHighWaterFilm.com
Come Hell or High Water: The Battle for Turkey Creek follows the painful but inspiring journey of Derrick Evans, a Boston teacher who moves home to coastal Mississippi when the graves of his ancestors are bulldozed to make way for the sprawling city of Gulfport. Bay Area filmmaker Leah Mahan worked on the documentary over the course of a decade, as Derrick and his neighbors stood up to powerful corporate interests and politicians and faced ordeals including Hurricane Katrina and the BP oil disaster. This film is about their struggle for self-determination and environmental justice and shows the resilience of a community that stands together for their rights.