May 28th, 2014
This week: last days to watch online; join us in San Francisco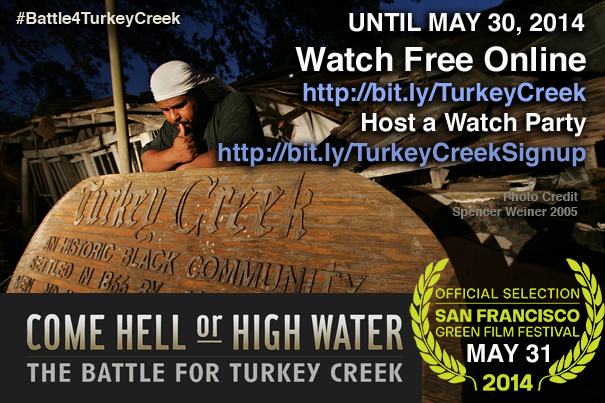 There's still time to make the most of the opportunity to view and share Come Hell or High Water while it is streaming for free on the WORLD Channel website until May 30 at http://bit.ly/TurkeyCreek.
The upcoming Bay Area premiere at the San Francisco Green Film Festival on May 31 includes a discussion moderated by Rev. Dr. Ambrose Carroll with filmmaker Leah Mahan, Derrick Evans of Turkey Creek, Judy Hatcher of Pesticide Action Network and Daniel Iacofano of MIG community planning. Reserve tickets for this event at 7 p.m. on May 31 at the Roxie: http://bit.ly/TheBattleforTurkeyCreek.
Read more about these events and other news at ComeHellorHighWaterFilm.com.