February 18th, 2014
D.C. Premiere of Come Hell … March 30 with Special Guests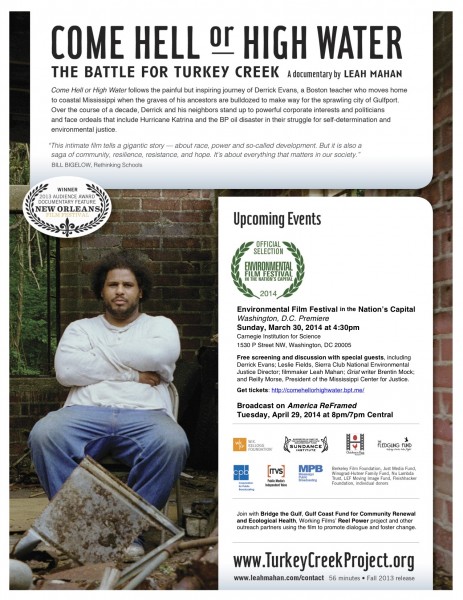 Updated February 27, 2014
FOR IMMEDIATE RELEASE
CONTACT: Leah Mahan at www.leahmahan.com/contact
COME HELL OR HIGH WATER, A DOCUMENTARY ON THE STRUGGLE
TO SAVE A MISSISSIPPI COMMUNITY SETTLED BY FORMER SLAVES,
HAS ITS WASHINGTON, D.C., PREMIERE MARCH 30, 2014
Free screening with special guests on the final day of the
Environmental Film Festival in the Nation's Capital
BROADCAST ON AMERICA REFRAMED APRIL 29, 2014 at 8pm/7pm CT
Washington, D.C. – Come Hell or High Water: The Battle for Turkey Creek will have its Washington, D.C., premiere on March 30, 2014, on the final day of the Environmental Film Festival in the Nation's Capital. The theme of the 22nd annual festival, Our Cities, Our Planet, "will examine the challenges posed by Earth's urban environments and the efforts of the world's cities to balance environmental and economic needs." The free film screening (4:30 p.m. Sunday at the Carnegie Institution for Science, 1530 P Street NW, Washington, DC 20005) will be followed by a panel discussion with special guests including: Derrick Evans of Turkey Creek; Leslie Fields, National Environmental Justice Director for the Sierra Club; filmmaker Leah Mahan; Grist writer Brentin Mock; and Reilly Morse, president of the Mississippi Center for Justice.
The film will premiere on public television on the series America Reframed on April 29, 2014 at 8pm/7pm Central. Through the lens of 26 independent films, America Reframed tells the many stories of a transforming American culture and its broad diversity. The series airs on the World channel, a 24/7 over-the-air digital subchannel showing public TV non-fiction, science, nature, news, public affairs and documentaries. Viewers can find the broadcast on a local station or watch when it streams for free online for 30 days following the premiere broadcast. Additional broadcasts will be scheduled in 2014 and 2015.
The film won the Audience Award for Documentary Feature when it premiered at the New Orleans Film Festival in October 2013 and a sneak preview at Power Shift, a national gathering of 8,000 youth leaders held in Pittsburgh, was hosted by the Reel Power project.
Come Hell or High Water follows the painful but inspiring journey of Derrick Evans, a Boston teacher who moves home to coastal Mississippi when the graves of his ancestors are bulldozed to make way for the sprawling city of Gulfport.  Over the course of a decade, Derrick and his neighbors stand up to powerful corporate interests and politicians and face ordeals that include Hurricane Katrina and the BP oil disaster in their struggle for self-determination and environmental justice.
"This intimate film tells a gigantic story – about race, about power, about so-called development. But it is also a saga of community, resilience, resistance, and hope. It's about everything that matters in our society."
-Bill Bigelow, Rethinking Schools
Filmmaker Leah Mahan worked on the documentary for a dozen years and was invited to collaborate with world-class creative advisors as a fellow at the Sundance Institute Documentary Editing and Story Lab. While producing the film, Mahan worked with Derrick Evans and the Gulf Coast Fund for Community Renewal and Ecological Health to create a community media project titled Bridge the Gulf that has been a resource to people and organizations across the Gulf South since it launched in 2010. Bridge the Gulf places the Turkey Creek story in a broader context, connecting viewers to a network of Gulf Coast community journalists with deep roots in diverse communities and fields who report on pressing social and environmental issues. The project has drawn the attention of MSNBC, the BBC, NPR and The Daily Show with Jon Stewart. A redesign of the site supported by the Independent Television Service will be launched in March and celebrated at the Washington, D.C. film premiere.
Come Hell or High Water is part of Reel Power, a collaborative of award-winning documentary filmmakers, individual leaders and organizations working to address climate change and the long-term impact of destructive resource extraction. Through targeted and public screening events, strategy convenings, and hands-on trainings coordinated by Working Films and supported by Chicken and Egg Pictures, the Nathan Cummings Foundation, and the Putnam Foundation, Reel Power is positioning Come Hell or High Water and other high impact films to promote and advance new energy solutions and a clean and just energy future.
Come Hell or High Water: The Battle for Turkey Creek is a co-production of Zamler Productions, LLC and the Independent Television Service (ITVS), produced in association with Mississippi Public Broadcasting, with funding provided by the Corporation for Public Broadcasting (CPB). The film was also supported by the W.K. Kellogg Foundation, Sundance Institute Documentary Fund, Chicken & Egg Pictures, Berkeley Film Foundation, Just Media Fund, Winograd-Hutner Family Fund, Nu Lambda Trust, LEF Moving Image Fund, Fleishhacker Foundation and individual donors.
About the filmmaker
Leah Mahan is an independent documentary filmmaker whose work has been nominated by the Directors Guild of America for Outstanding Directorial Achievement. Mahan's film Sweet Old Song (2002) was featured on the PBS series P.O.V. and was selected by film critic Roger Ebert to be screened at his Overlooked Film Festival ("Ebertfest"). Mahan began her career as a research assistant for filmmaker Henry Hampton on the groundbreaking PBS series on the civil rights movement Eyes on the Prize. A sequel to her first film, Holding Ground: The Rebirth of Dudley Street (1996), was completed in 2013. The films tell the story of a vibrant community organization that transforms a devastated Boston neighborhood through grassroots organizing.
Production Credits
Producer, Director, Cinematographer
Leah Mahan
Producer and Editor
Jane Greenberg
Co-Editors
William A. Anderson
Dawn Logsdon
Composer
Derrick Hodge
Ticket Reservations
Free tickets can be reserved online for the March 30 screening of Come Hell or High Water at the Environmental Film Festival in the Nation's Capital (http://comehellorhighwater.bpt.me/).
For more information
# # #